[cmsmasters_row][cmsmasters_column data_width= »1/1″][cmsmasters_text]
FROM NORTH TO SOUTH, NAVIGATE ON THE BEST KITESURF SPOTS
BRITISH VIRGIN ISLANDS
The British Virgin Islands is an ideal place for kitesurfing and sailing: the trade winds are constant throughout the year, the water is warm and you will find many lagoons, but also, wave spots for any level.
These islands, the most intact of the Caribbean, will offer you many sessions that you will not soon forget, breathtaking landscapes and a guaranteed Caribbean atmosphere.
During this trip, we invite you to discover the many facets of these islands, composed of 4 main islands:
TORTOLA
This island is the largest and includes the International Airport as well as the capital city ROAD TOWN. We will find a single kitesurf spot! The conditions on this flat spot are good and very regular.
We can do a session or two. But believe us, the best is to go straight to the next island, because what we will find there is closer to paradise than anything else.
VIRGINE GORDA
This calm and welcoming island will offer you an ideal lagoon kite practice; the many islands that surround it will let you enjoy dreamlike sites. If there is a little swell, you can also do an surprising wave session in the middle of multicolored fish and turtles.
JOST VAN DYKE
This island will offer you an exceptional flat spot! Well known for scuba diving, you can enjoy snorkeling equipment to visit the corals and seabed of another world!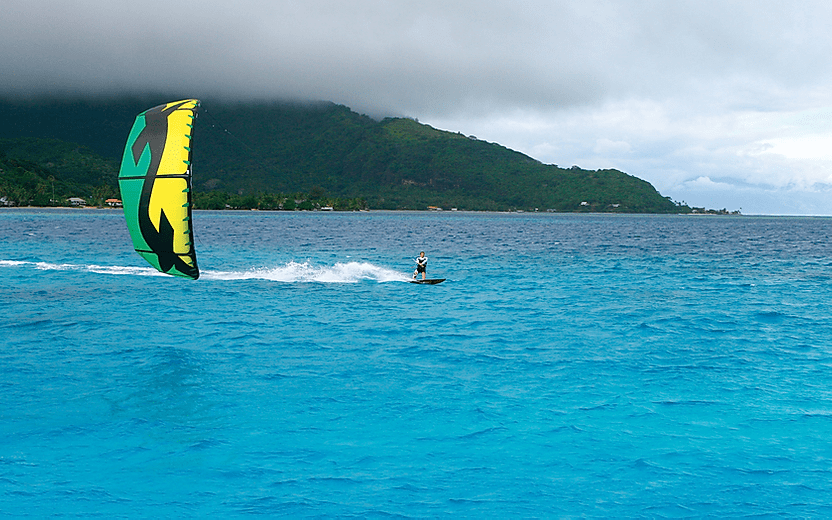 ANEGADA
Anegada is the reference for kitesurfing in the British Virgin Islands. You will find huge lagoons of white sands, fine and immaculate, crystal clear water and kite spots on the entire coastline. The lack of relief of the island gives a stable and ideal extreme wind. This island will offer you a multitude of spots accessible by catamaran only.
Beyond flat spots almost perfect, you can enjoy unique waves session, practicable for any level!
You will also discover mythical places like the Baths, and local pubs known throughout the Caribbean for their crazy nights!!
ISLAND OF SAINT MARTIN / SINT MARTEEN
The island of Saint Martin offers many kite surfing spots. The trade winds there are constant around 15 to 25 knots for a majority of the year. You will enjoy beautiful places all around this island. Beaches, lagoons, waves and quality of life will amaze you during your stay! Regarding the spots, here you go:
ORIENT BAY
The Orient Bay kite spot is located on the Atlantic side of St Martin. This spot, more than 4 km long, offers an exceptional distance for all freeriders or foilers. The spot is flat you can find some jumps when the wind is more sustained.
GREEN CAYE
Located near ORIENTE BAY, this spot offers you an ideal lagoon for any level. The water is glowing; you can enjoy this navigation with turtles and colorful tropical fish. For the more experienced, you'll love to quickly get over the waves that breaks near the exits of the lagoon to do some jumps and surfing…
THE GALLION:
The mythical spot of the island, the galleon will offer you a multitude of possibilities for all levels.
You will find a very tiny and quiet beach on the bay with a crystal clear and shallow water Lagoon. This bay is very safe for beginners and freeriders of all levels.
On the other side you will be able to access the reef which will allow you to let go in waves.
The spot of GALLION is extremely versatile and will offer you perfect conditions, suitable for all, during several days.
You will also love its bars, restaurant and surf spirit atmosphere!
TINTAMARRE
This small island will offer you a magnificent lagoon. The freestylers will love. The most experienced can also access the waves and enjoy surfing!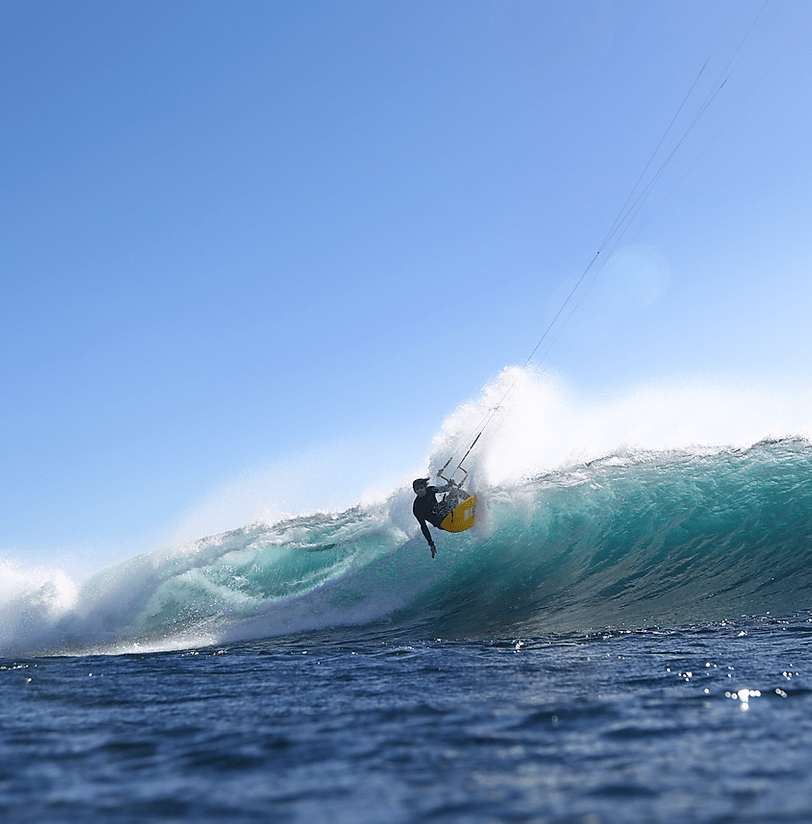 NETTLE BAY
This is one of the only spots on the west coast of the island. You can enjoy this bay with sumptuous colors as soon as the wind is from the north-east. Freeriders and foilers will love!!
GUADELOUPE AND ITS ISLES
Guada will offer you ideal conditions for kitesurfing from the beginning of November to the month of June. The trade winds are constant and regular (15-25 knots). You can enjoy the catamaran to ride the spots of the islands, but of course, we will offer you to discover the spots of Marie-Galante and the Saintes. You'll love kiting in these little paradises for both the ideal kite conditions and the quality of life you'll find there!
BOIS JOLAN
This spot is ideal for all levels. You will find flat conditions as well as waves further offshore. There will be some for everyone!
BEACH OF THE CARAVELLE:
Dream decorations! The caravel beach offers white sand beaches, clear water and coconut palms. Takeoff is from the beach or catamaran. You will love this spot of flat and shallow!
SALINES
This spot is one of the best of GUADELOUPE. A dream beach, always very few people on the water. You will love nature. You may have the chance to kite together with turtles in this dream setting.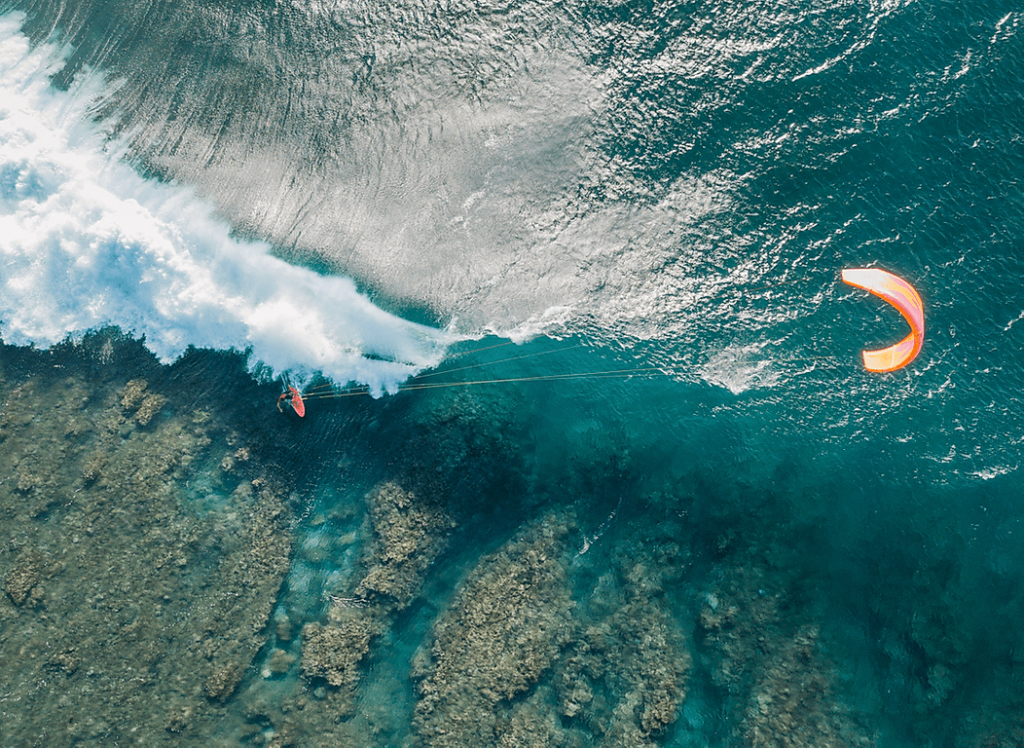 THE SAINTES
Located about two hours of catamarans on the Guadeloupe side, you can discover the islands of Saintes. You will enjoy the most beautiful bay in the world!! You can practice kitesurfing for hours in a beautiful bay and a steady wind.
Thanks to the low draft of the catamaran, you will have access to the best places for anchorages.
The visit of the island is highly recommended. Known throughout the world for its beauty, this calm and sumptuous island will give you the impression that time has slowed down.

MARIE GALANTE & LA FEUILLERE
The kite spot of the Feuillère is endowed with one of the most beautiful beaches of the island of Marie Galante.
You will discover an ideal lagoon for all levels with very pleasant sailing conditions. At the bottom of the lagoon, you will have access to waves for the more experienced.
You will love its tranquility and the beauty of its landscapes. We strongly recommend a visit to Marie Galante.

ANTIGUA AND BARBUDA
These paradise islands will offer you an extraordinary trip. As nice for their quality of life as for the kite spots that you will discover, ANTIGUA AND BARBUDA have not finished to surprise you!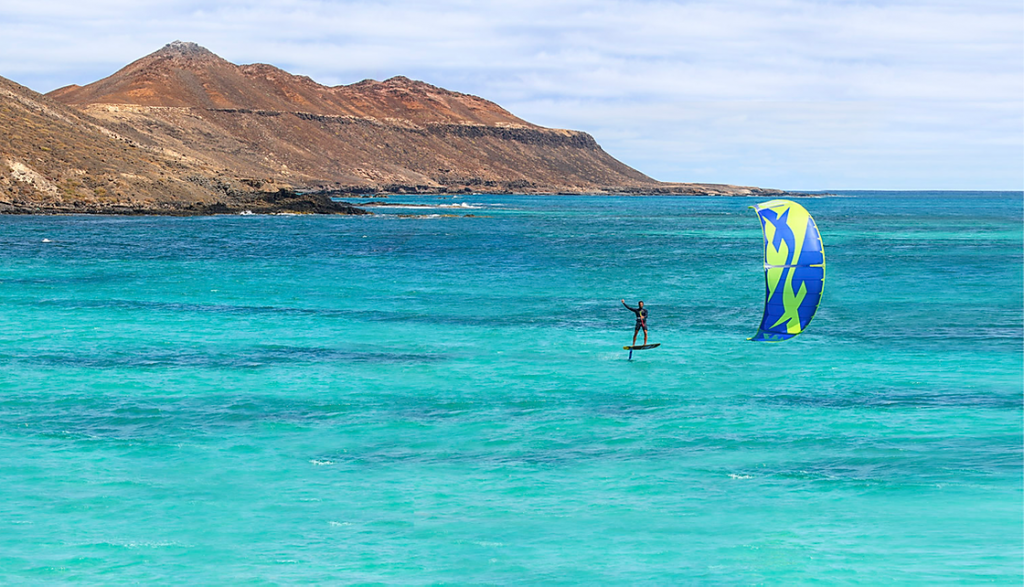 ANTIGUA:
Beautiful beaches, among the most beautiful in the Caribbean, make ANTIGUA a family destination par excellence. White and powder like snow, its beaches are bathed by turquoise waters whose intensity is hardly credible – tropical cocktail.
You will find on these islands restaurants, bars that will offer you all kinds of atmospheres worth discovering.
GREEN ISLAND is a lagoon that is well known in the world of kitesurfing. Huge green lagoon with transparent water. This lagoon, well sheltered from the swell, will be ideal to enjoy the wind all day long.
BARBUDA:
On the island of BARBUDA You can sail in the bay of JOLLY HARBOR. This bay will offer you the wildest navigation of your stay, and in complete safety.
LES GRENADINES
Les îles des Grenadines sont les spots de kitesurf les plus important et variés des Antilles.
Au départ de la Martinique ou de Saint Lucie, nous pourrons vous faire découvrir, sur la route de ces îles, des endroits somptueux classés parmi les beaux des caraïbes.
Vous allez adorer visiter les baies les plus sauvages de sainte Lucie, vous baigner dans les sources d'eau chaude au pied du volcan ou visiter les marchés de Kingstown, cette ville chargée d'histoire, etc.
ILE DE BEQUIA
Un endroit magnifique, mais qui, malheureusement, ne possède pas de spots de kite! Après un pied-à-terre pour la visite de cette île à ne pas manquer, nous passerons directement sur l'île de CANOUAN pour profiter au maximum de votre sport !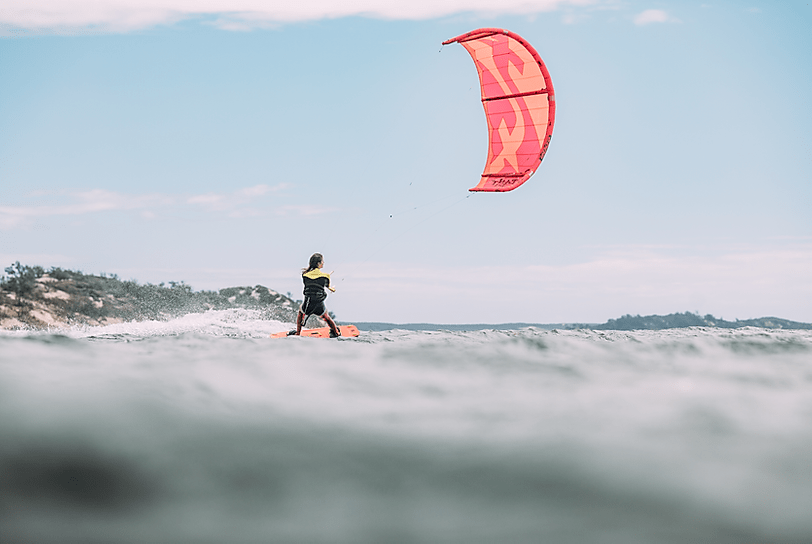 ILE DE CANOUAN
Vous naviguerez sur son lagon turquoise pour profiter au maximum de toute votre journée ou évoluerez sur les vagues à proximité pour ceux qui souhaitent pratiquer le surfkite.
Cette zone de navigation est extrêmement agréable et très sécurisée.
En fin d'après-midi, nous prendrons un excellent mouillage sur PORT ELIZABETH afin de profiter de l'Ile pour une sortie restaurant. Nous trouverons le meilleur poisson de toutes les caraïbes !
ÎLE DE MAYEREAU
Nous découvrirons sur cette île un des plus beaux spots de l'archipel.
Ce spot, très facile à naviguer, vous offrira une zone de plat et une zone de petites vagues. Vous trouverez de tout pour vous faire plaisir durant cette journée. Vous allez adorer et progresser rapidement!
En fin d'après-midi, nous pourrons profiter de l'île pour prendre un verre dans de ses bars atypiques !
LES TOBAGO CAYS
Les îles des TOBAGOS  CAYS sont les plus belles îles des Grenadines !!
Îles sauvages, eau turquoise, tortues, nombreux poissons multicolores, vous pourrez dans de ce cadre idéal,  naviguer et prendre le temps de vivre.
Bien évidemment, dans un endroit pareil, une plongée s'impose grâce au matériel mis à votre disposition.
Le mouillage, en soirée, entre ces îles, est très calme. Il se prête parfaitement à un excellent dîner à bord.
À cet endroit, où la nature resplendit, le réveil et le petit-déjeuner sont parfaits !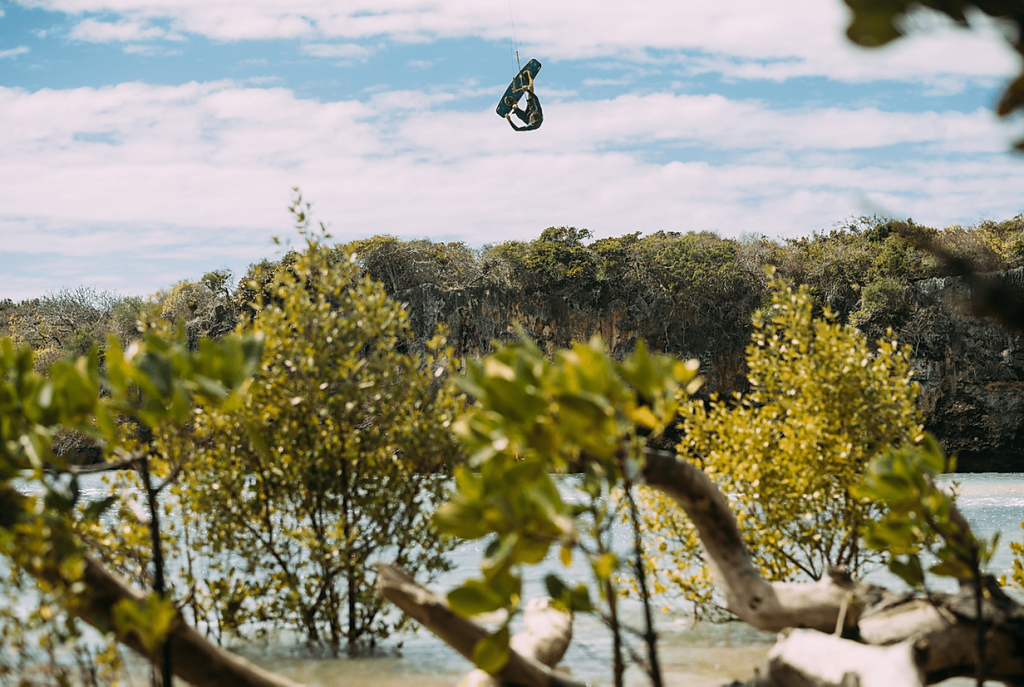 UNION ISLAND
Vous pourrez profiter d'un excellent spot d'eau plate. Peu profond, il y en aura pour tout le monde, mais les freestylers vont s'en donner à cœur joie.
Vous découvrirez également HAPPY ISLAND, une île étrange, construite avec des coquilles de
conques. Nous pourrons nous y arrêter pour profiter d'un de ses nombreux endroits atypiques.
FRÉGATE
L'île de FRÉGATE offre un spot idéal pour les débutants et les experts. Départ de la plage, les conditions sont parfaitement lisses et vous pourrez évoluer tranquillement en toute sécurité
[/cmsmasters_text][/cmsmasters_column][/cmsmasters_row]