Feel the diffrence onboard a RentSailBoat catamaran
Crewed Charter - Enjoy your vacation fully
In order to take full advantage of every moment of your time with us, we invite you to meet our crew, who prepare delightful menus all through your stay.
The crew will also prepare refreshing cocktails and sundowners, maintain and organise the kitchen as well as the other communal areas of the vessel. We are particularly focused on your well-being and, for that reason, we do our utmost to prepare fresh, healthy meals.
All meals are freshly-prepared onboard for the duration of your stay.  The crew also take advantage of stopovers to source local fresh food to complement the menu.
Take some time to fill in our information form so that the crew can design a personalised menu for you based on your tastes and according to the products available.
In order to check the quality of our food, click here to download an example menu for a full week trip.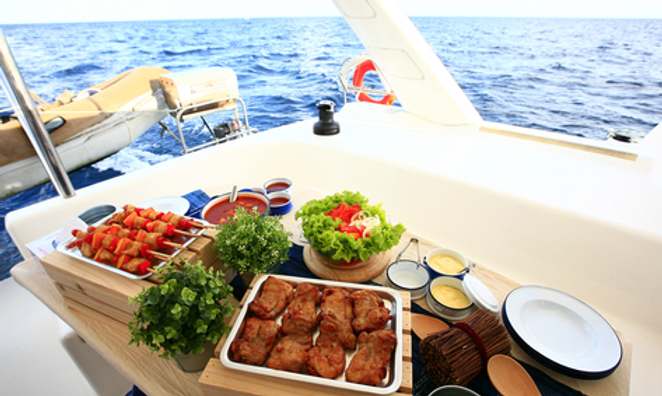 It is not necessary to be an experienced sailor to sail onboard our catamarans.
For your sailing cruise, we offer you a range of very spacious,  comfortable and extremely stable boats. We always choose sailing routes to the lee of the islands in order to benefit from the maximum protection so everyone can enjoy a very pleasant sailing experience.
Everything onboard is at your disposal allowing you to sunbathe on the deck, take advantage of the outdoor comfort seats and enjoy the view from the front and rear lounges.   There is also a trampoline. You can even try your hand at taking the helm and pretending to be the captain. Our skipper will be delighted to show you the ropes.
On our boats, you will not lack anything. Our entire fleet is self-sufficient in water and energy so you can enjoy your trip without depriving yourself.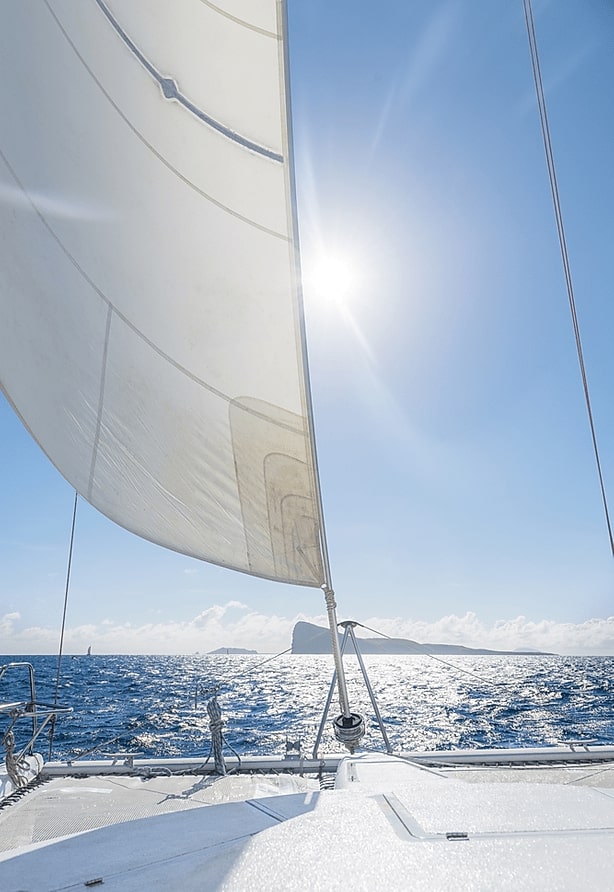 Because every moment is precious, the anchorages are always planned in calm, pleasant locations so that you can have a restful sleep.
You will spend your nights in natural shelters, a few dozen meters from the fine sandy beaches. Our skippers are at your disposal for round trips ashore at any time in the dinghy.
In the evening, our cabins are fully air conditioned for an even more pleasant night.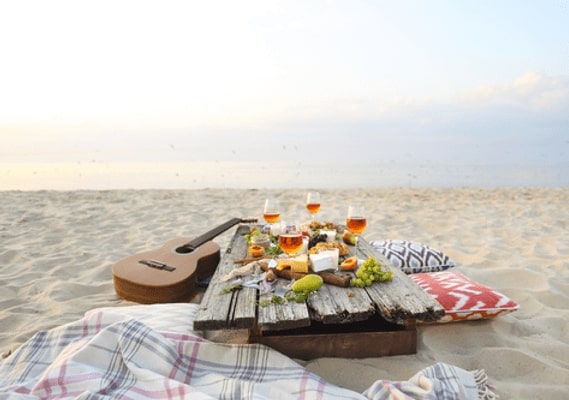 After an intense day, we invite you to discover life on the islands.
You can enjoy magnificent landscapes  for a real change of scene, , an amazing sunset while you visit the local shops and markets or enjoy a drink in the local bars.
Eating onboard or grilling lobsters on the beach will become daily routine!
While onboard, we offer many other activities. You have at your full disposal stand up paddles, fishing equipment, double kayaks, snorkeling equipment, sunbathing and much more.
All this equipment is included in your catamaran charter.
Stand-up paddles allow you to move around the water quietly enabling you to approach marine animals as close as possible without disturbing them. You will also discover secluded places.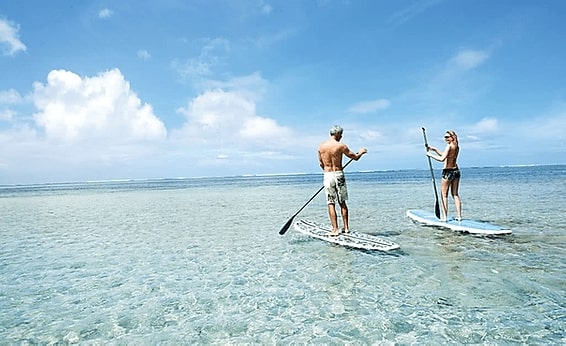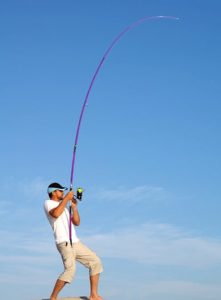 Fishing equipment is available for trolling or cane use.
When hopping from one island to another, it is not uncommon to see whole schools of tuna, dorado fish or other tropical fish. You will have a lot of fun fishing in the warm, fish-laden waters of the Caribbean Sea.
Paddling around an island, meeting at a scuba diving area, landing on a desert beach at will…the choice is yours.
These are the many unique experiences that you can have with double kayaks.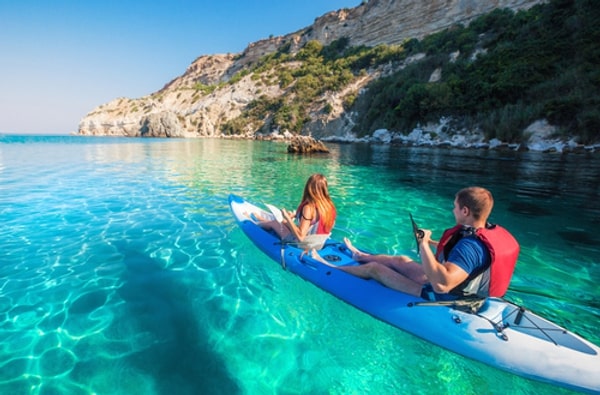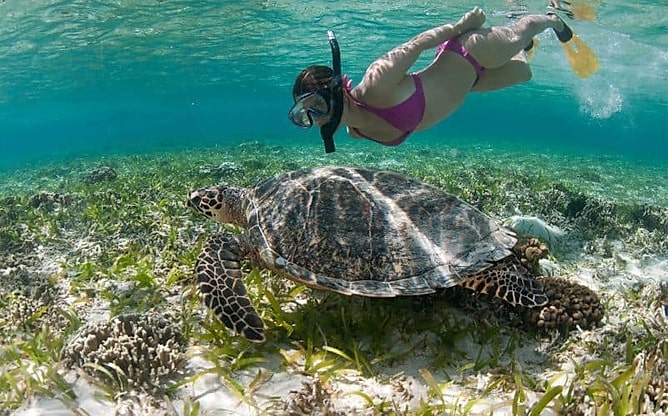 Travelling to the Caribbean without discovering the seabed, corals, multicoloured fish or turtles?   No way!
You will find all snorkeling equipment onboard. Our skippers will introduce you to the best reefs and snorkeling spots along your route.
Because your comfort is our priority, sunbathing areas are located at different places around the vessel.
You can use them at any time, including while the boat is moving.